[su_tabs class=""][su_tab title= E5000 ]
Promise VTrak E5000 Series
High Performance Meets High Availability
The VTrak E5000 Series goes above and beyond, providing affordable high-performance Fibre Channel to SAS Storage solutions with advanced enterprise level reliability and functionality. Four 16Gb Fibre channel ports and two 12Gb SAS ports per controller connecting host and storage expansion, the E5000 makes it a perfect fit for applications requiring huge bandwidth. The E5000 can reach outputs of 542,100 read IOPs and up to 111.686 write IOPs. The E5000 delivers a whopping 12 Gigabyte read and 5.3 Gigabyte write sequential throughput. Equipped with a range of redundancy components such as active-active controllers, power supplies and cooling unites, help to provide for optimal data availability, even during unforeseen circumstances. The VTrak E5000 makes for a fully featured enterprise level storage system that can accommodate any size of business environment
[su_spacer size="5″]
Data Center Ready
Fully compatible with 6 Gb/s SAS/SATA devices, the VTrak E5000 gives users the ability to deploy 6 Gb/s and 12Gb/s SAS/SATA HDDs and SSDs Efiicient power supplies provide up to 90% improved power efficiency, improving TCO by conserving power, reducing heat output and lower cooling costs. The E5000's flash arrays enable optimized speed for key enterprise applications that need high speed transfer rates and reduced latency. thanks to it's Intel multi-core Broadwell-DE based architecture providing ample processing power to achieve transfer speeds at line rate on both 16Gb Fibre Channel front-end interfaces and 12Gb SAS Back-end interfaces [su_spacer size="5″]
Cloud Ready
With businesses and consumer adopting an on-the-go approach, the need for data retrieval, access and distribution at any time and anywhere, brings with it the need for data to be protected at all times. The E5000 series brings the benefits of versatility and scalability to meet the demands of data centers, hyper scale computing and high-performance computing that require flexibility and budget friendly tiered storage management.
[su_spacer size="5″]
Virtualisation Ready
The Vtrak E5000 series is certified with VMware, vSphere, Citrix XenServer, and microsoft Hyper-V, with the addition of VMWare VAAI, reducing resource overhead on VMware cSphere ESXi hosts. This guarantees significant improvements in performance for storage-intensive operations like storage cloning, zeroing and many more.
[/su_tab] [su_tab title= J5000]
Promise VTrak J5000 Series
Affordable, Reliable Enterprise Level Storage
The VTrak J5000 Series delivers not only high performance, but an affordable SAS solution with advanced enterprise level reliability and functionality.  The four external 12 Gb/s SAS ports per I/O module provide the connectivity for large capacity solutions requiring multiple cascaded JBODS and high bandwidth solutions that require blazing speeds. Fully redundant I/O modules, power supplies and cooling units, combined with a cable-less system design provides exceptional data availability, even during component failures.[su_spacer size="5″]
Data Center Ready
Backwards compatibility with 6 Gb/s SAS/SATA devices means that users have the ability to deploy 3 Gb/s, 6 Gb/s and 12 Gb/s HDD's and SSD's in the J5000 Series. With up to 90% power efficiency improving TCO by conserving power, reducing heat output and improving cooling costs. The internal 12Gb/s SAS expander-based architecture also allows for transparent access to each drive, enabling full utilization of the power management features built into modern hard drives.. The internal 12 Gb/s SAS expander-based architecture also allows for transparent access to each drive , enabling full utilisation of the power management features built in to modern HDD's.[su_spacer size="5″]
DataCenter Optimized By Enhanced Performance
The VTrak J5000 Series performs data transfer at incredible speeds, allowing you to optimize your data center. Administrators can deploy with the fastest SAS bus speed with 12Gb/s HDDs or SSDs. The backwards capability does not mean you aren't able to optimise the full port bandwaidth of 12Gb/s to the host. Flash Arrays allow you to optimise speed for key enterprise apps that require utmost performance. The internal 12Gb/s SAS expander architecture allows for data to transfer with greater redundancy protection.
[/su_tab] [su_tab title= AClass]
Promise VTrak A-Class Series
The All-In-One Storage Solution For Rich Media
The Promise VTrak A-Class series, is the ideal solution for multi-user collaboration to ingest, stream, edit and process rich media files. Considered a true solution in a box RAID storage subsystem, with an integrated metadata appliance and embedded file system for big data, along with a NAS gateway
Simple and Fast; A Winning Combination

VTrak A-Class is optimized for high performance, high bandwidth, high scalability and rich media applications that require large block sequential IOPs, while its All-in-one Metadata appliance, RAID storage subsystem and file system makes it much less complicated to use. The ability to pay as you grow, from 32TB of storage to a whopping 7PB for a long term storage investment. the VTrak x30 being the only apple qualified enterprise SAN subsystem, with high availability dual controllers, hot-swappable modular disk arrays, the A-Class can help you save on rack space, and help lower energy costs making this a cost effective solution.[su_spacer size="5″]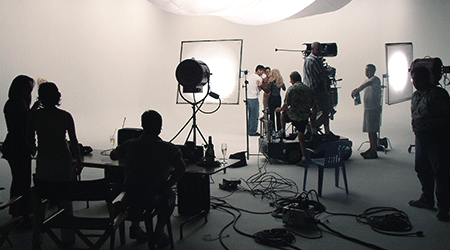 Optimized For Video-Centric Environments
The VtrakFS, from the Vtrak A-Class series, optimises a file system for leveraging 8Gb FC interface for large file data ingesting, streaming, or processing between a SAN and it's client, unlike traditional NAS file systems. Data is directly transferred between the SAN appliance and clients over the SAN FC network, this means high bandwidth performance, and lower latency data transfers, perfect for Media and Entertainment, HPC applications, and other video-centric environments.[su_spacer size="5″]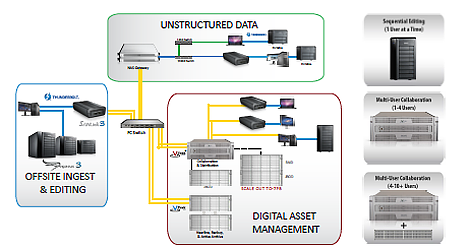 VTrak – The Solution To Video Storage Needs
Increase capacity without sacrificing performance
Supports 1024 RAID Logical Drives to make up the volume
JBODs can be added to increase the storage space
RAID heads can be added as Storage Nodes to dynamically increase the storage space as well as increase the number of FC counts, thus scaling performance
All this can be done online, without interrupting clients
[/su_tab] [su_tab title=VessR2000 ]
Vess R2000 Series

High-Availability dual controller NAS

Nothing cripples a business more than service interruptions, the Vess R2000 Series, customers have a cost-effective way to ensure uninterrupted business with dual controllers. Conventional single controller NAS cannot provide this, without a high availability cluster that combines serveral devices, being much more significant in price.
Save Space, Costs And Frustration
his high-availability NAS cuts system configuration costs, cuts rack space and greatly reduces management complexity compared to traditional single controller NAS solutions. Combined with the decreased risk of downtime and the hidden costs associated with bringing back single controller solutions for live use, the Vess 2000 Series is an ideal solution for businesses trying to do more at a budget friendly price
Unified storage for SMB's
The Vess 2000 Series is a unified storage solution offering impressive performance while simplifying administration and adding flexibility. Give you the option to use 8Gb/s FC SAN for heavy I/o applications like video editing, high performance computing or scientific research, the 1gb/s and 10GB/s iSCSI SAN for less intensive I/o applications like data backup or remote replication, or use the NAS for video surveillance, virtualised environments or general file sharing applications.
This simple to manage and easy to use NAS is specifically designed with SMB's in mind features one plug auto service to reduce maintenance complexity and provide a streamlined tech support workflow. The Vess R2000 Series is certificated for Milestone Xprotect video management software, with documented performance results,best practice and innovative solution architecture, integrator and end users can easily build a video surveillance with complete confidence. Additionally the Vess R2000 series is verified to support up to 4x the amount of cameras as recommended by the milestone calculator.[su_spacer size="5″][/su_spacer]
Virtualisation Ready
Built ready for a virtualised environment, certified with VMware vSphere, Citrix Xenserver, Microsoft Hyper-V and DataCore SANsymphony-V with the addition of VMWare VAAI, which can reduce resource overhead on VMware vSPhere ESXi hosts.
[/su_tab] [su_tab title=VessPro]
Promise Vess R2000 Pro Series
Cost Efficient Storage For Mutli-User Rich Media Workflows
Delivering muti-user scale up capabilities and rapid NAS connectivity via dual active 10Gb Ethernet controllers the Vess R2600 Pro from the pro series is ideal for compressed workflows that use popular editing programs such as Adobe Premier and Final cut Pro. The Vess R2600 Pro is optimised for end to end workflows, making it ideal for mid-sized businesses requiring a rich media NAS solution that delivers enterprise RAID reliability and performance, wheter ingesting, editing, delivering or archiving Rich Media Content.[su_spacer size="5″]
Optimized For Audio, And Video

With t video and audio files continually evolving, today's data centers must also evolve to handle these specialized files. IT managers need a way not only to manage this data over time, but effectively allow users to access and distribute. The vEss R2600 Pro is the perfect fit as an idel content distribution solution for many small unstructured media files.[su_spacer size="5″]
Effortless Rich Media Streaming
The Vess Pro Series is an ideal file-sharing NAS solution , Perfect for working on real time compressed video workflows using popular editing programs such as Adobe Premier pro and Final Cut Pro. Supporting up to 22 ProRes streams ( ProRes 422 HQ [29.97fps] and also 6 streams of 4K ProRes (PreRes4444 10bit QuadHD [3840×2160 @23.98fps])[/su_tab][/su_tabs]